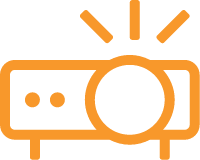 Cinema From The Comfort of Your Own Home
We'll Help You Get The Most From Your Video Library
There is nothing better than sitting down with the family and watching the latest blockbuster in the comfort of your own home.
Surround sound adds a new dimension to the film and in many cases can sound and feel better than the cinema.
Systems can be designed to suit all budgets but the difference a true surround sound system gives over the tiny standard speakers in a TV has to be heard to be believed, oh and one mustn't forget the impact of a three metre screen!
The use of 2D and 3D home cinema projectors allows you to enter the world of big-screen entertainment and get truly immersive cinema experience from your own home.
With a 4K projector you can experience four times the detail of Full HD, so movies, games and more can be enjoyed with clear, high-contrast images.